Fallbrook Arts, Inc.
Categories
Clubs, Community & Nonprofit Organizations Arts/Art Galleries
About
Providing unique art experiences.
Fallbrook Arts, Inc. is a 501(c)(3) nonprofit with a mission of expanding the arts experience in the community. They have been working towards the vision of helping Fallbrook to become a leading arts destination through multiple venues for art appreciation, art education and art acquisition since 1994.
P.O. Box 508, Fallbrook CA 92088 | (760) 731-9584
Art in Public Places


Fallbrook Art in Public Places brings important public art into the community raising art awareness through education and public displays of artist's works. The Art in Public Places program stimulates the vitality and economy of Fallbrook through cultural tourism and enhances its standing as a regional leader in the arts.
"The Happies" are located at the corner of Fallbrook Street and South Mission Road, near Fallbrook Street School.
www.fallbrookartinpublicplaces.org
Fallbrook Art Center

Fallbrook Art Center offers a diverse range of exemplary art exhibitions. It is a distinguished, accessible, and welcoming institution that serves as a cultural, collaborative and educational focal point for the community and the region. The Art Center annually produces a variety of thought-provoking visual art shows in their three galleries with a focus on sculpture, painting, printmaking, wildlife, glass, and more.
103 S Main, Fallbrook | (760) 728-1414
Fallbrook School of The Arts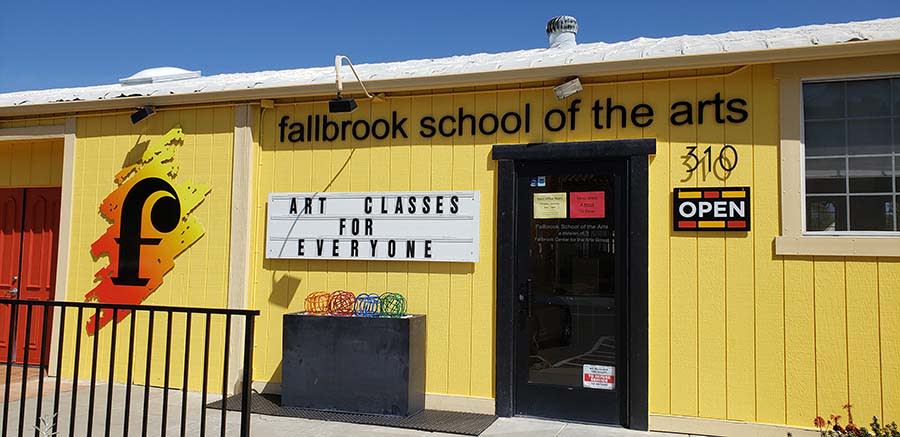 Fallbrook School of the Arts is an arts education facility dedicated to providing year-round programs and a positive place for children, youth and adults of every skill level to create and learn. The School of the Arts offers classes and workshops to the public in ceramics, printmaking, glass, fiber art, jewelry making, photography, sculpture, drawing and painting.
310 E Alvarado, Fallbrook CA 92088 | (760) 728-6383
www.fallbrookschoolofthearts.org